Introduction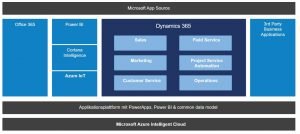 The new all-rounder corporate solution from Microsoft – Dynamics 365 Enterprise – has resulted from unifying the former Dynamics CRM and ERP tools from the Cloud. The software provides you with high-performance functions for finances, sales and purchasing, logistics, production, project management, customer services, marketing and personnel management. Complete the range with analyses derived from Cortana Intelligence, Power BI and integration into Office 365 – giving you a platform for sustainable growth and corporate success.
We apply Dynamics 365 Enterprise to assist companies going through digital transformation, permitting them to link all factors arising from your current business, and network with your employees, customers and business partners in innovative ways.Start off flexibly, expand as needed: Start with the functions you need right now, and move forward to developing a Cloud at your own pace.

Productivity where it's needed: Assist employees with productivity tools easily embedded into your processes.

Integrated intelligence: Achieve optimal results together with your staff – thanks to integrated intelligence throughout all process stages.

Focussed on growth: Adopt agile practices, adapting rapidly to new challenges with flexible, expandable applications and platforms.

Combine Dynamics 365 (ERP & CRM) with Microsoft 365, Power BI and Azure Services.

Whether you select Cloud, Hybrid or Local Business Data as your operating modus, Ambit Group is certified for all operating types and has extensive experience with them. We'll be glad to show you which operating type would be best for you.